Back to highlights
Supratec Winner of the 2019 "Trophées de l'Aéronautique La Tribune" Innovation award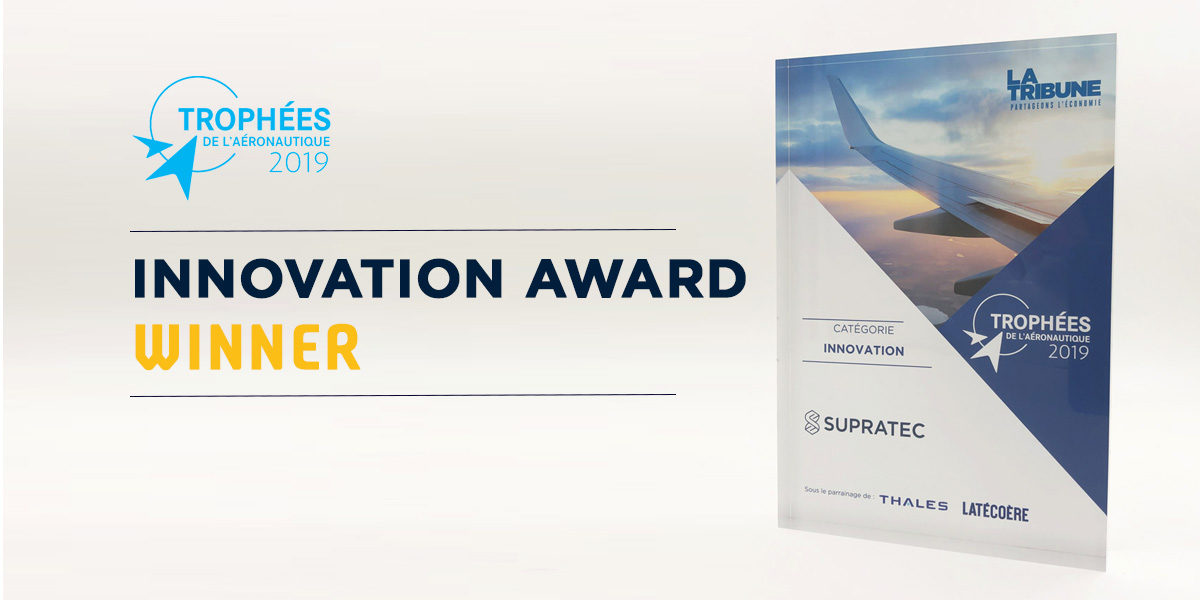 Supratec wins the "Innovation" Award at the 7th edition of the Trophées de l'Aéronautique La Tribune 2019 – Toulouse, 17.10.2019
Thursday, October 17, 2019, at the Envol des Pionniers in Toulouse, 8:00 pm, professionals in the aerospace industry discovered the name of the winner of the Innovation Award… Supratec ! This award received by our VP Maxime Prieto reinforces our offer of technological breakthroughs for a strategic market such as aircraft construction.
The eFactory® collection, composed of cutting-edge technology lines developed by Supratec Engineering teams, was once again highlighted during this important event dedicated to the leading players in the aerospace industry. This concentration of innovations is intended for the continuous improvement of the performance of industrial production lines. In concrete terms, at each key stage of the industrialization process of a product, eFactory® by Supratec is able to offer a disruptive solution for the preparation of parts, the handling, assembly and control at the output end of the process.
In addition, this technological offer is backed by a totally innovative business model for investment in industrial equipment: the TaaS® for Technology as a Service. In contact with French manufacturers for more than 55 years, Supratec has developed this offer to facilitate access to its technologies and accelerate their deployment in a "Win/Win" approach.
Among the technologies deployed in recent months in aerospace manufacturing facilities, the eMove ergonomic positioning technology (complete mobile and connected production line for the manufacture of LEAP engines) is the most remarkable example.
Innovation is at the heart of the transformation of the original model, technical trading for the benefit of industrial engineering. As Maxime Prieto supports it, « SUPRATEC, having distributed innovations through its various trading activities since 1962, has developed a real understanding of needs through its proximity to the most important manufacturing sites and has been able to follow and even anticipate the evolution of their expectations. This allowed us to identify the challenges of Industry 4.0 at a very early stage; motivated by the desire to satisfy these needs, we chose to develop our own solutions and technological innovations. »